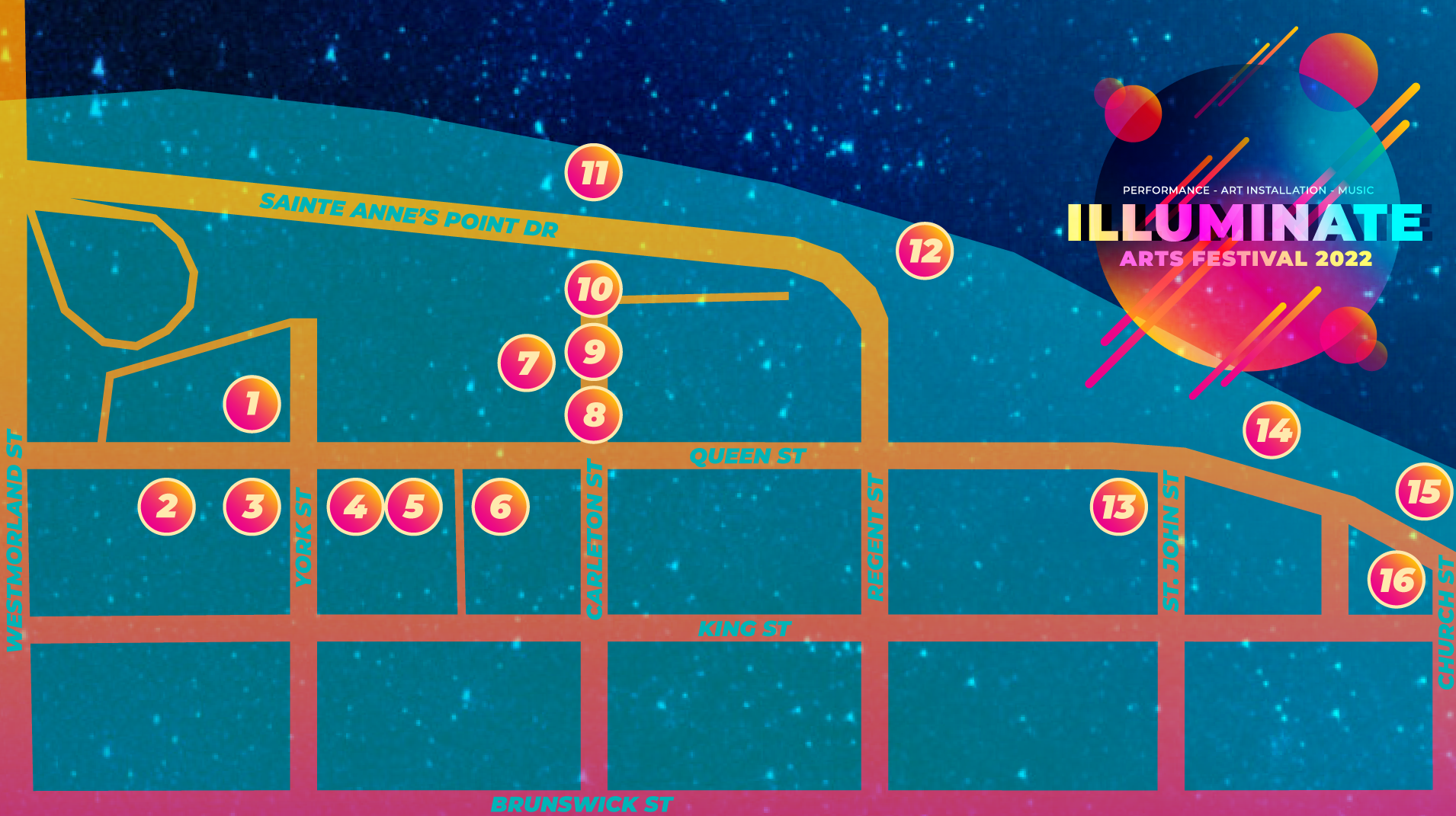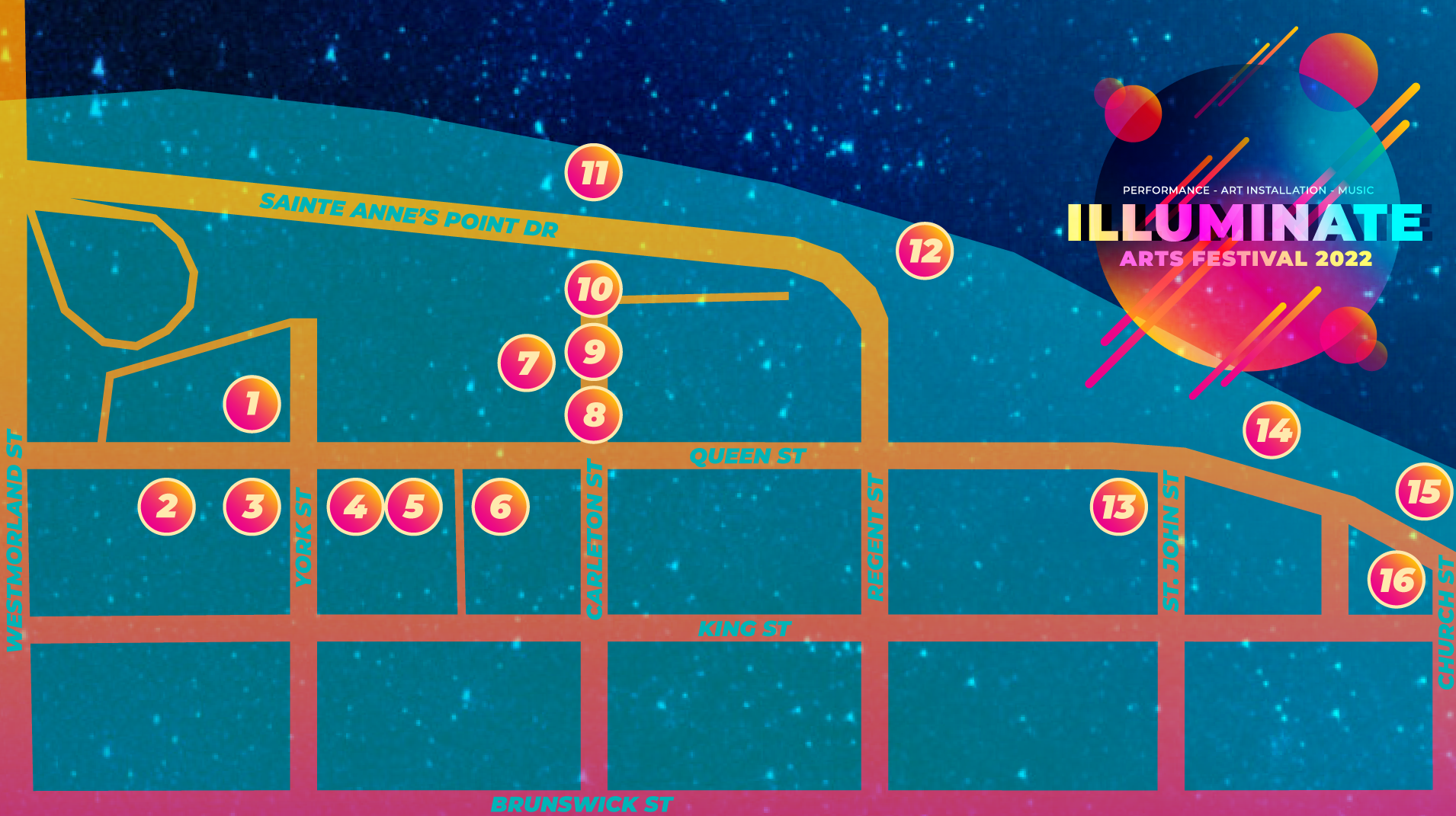 1 – CITY HALL
397 Queen St
Pillar of Life – Nicholas Walsh
Not Taught in School – Illuminate Collective Art Project
2 – THE TANNERY/THE CAP
362 Queen St (follow the lit alley to the Tannery!)
Conjuring the Creator – Midas Well
Relaxation Simulator – Illuminate Collective Art Project
Silk – Strike Pictures
Performances by:
Lumen Lux
3 – THE DANDY LOUNGE
385 Mazzuca Lane
here i am – Katie Hamill
Justin Toodeep
The Mind Of A Womam – Barb Wire
Pride and Culture – Succubus
Paint a record for free (40 available). Must present an Illuminate Map (paper from the Info Booth or digital) to claim.
4 – GAllery on queen
406 Queen St
Scattered – Adam Myatt
5 – 7th house tattoo
412 Queen St
Trans Divinity – Steel Transplants
Beyond Conforming – Shelby Harnish
6 – MONARCH NIGHTCLUB
474 Queen St (all ages before 9PM, 19+ after 9PM)
Performances by:
Écarlate
HEXEE
DJ Leiya
7 – BARRACKS SQUARE
463 Queen St
Intergalactic Invasion – Circuit Witch
8 – Info booth/coffee
35 Carleton St
Free Coffee from the Coffee Mill
9 – CArLETON STREET
11 Carleton St
Proud Fredericton – Mihail Milchenko
Game Night – Nat Cann
Evolutionary Forest – Colton Hash
Performances by:
Emmanuelle Jackson
Serpentine Studios
UNB NAACH
Thushara Premarajan
10 – PEDWAY START
10 Carleton St
Questioning Access – Ysabelle Vautour
11 – PEDWAY END
(Accessible from the Carleton Street Bridge and South Riverfront Trail)
Not photo, not copy – Yessica Enriquez
12 – LIGHTHOUSE GREEN
615 Queen St (along the South Riverfront Trail)
Web of Secrets – Illuminate Collective Art Project
13 – FREDERICTON PLAYHOUSE
686 Queen St
7:30PM – Lighthouse – Maureen Batt & Greg Harrison
Love Me Nots – Illuminate Collective Art Project
14 – BEAvERBROOK ART GALLERY
703 Queen St
Senbazuru for Hope and Healing – Thu Ho
I keep letting you win so I can hold your hand & I'll get you next time – Alana Morouney
Free Admission to Collections
15 – THE GREEN
799 Queen St (along the South Riverfront Trail)
Erasure is Violence – Queer Heritage Initiative of New Brunswick (Content warning for triggering language)
16 – GALLERY 78
796 Queen St
7:30PM – Miller Britain Screening
8:30PM – Kwa'nu'te' Screening
The Playhouse show 'Lighthouse' is Pay What you Will, but tickets must be reserved in advance.
The Beaverbrook Art Gallery will be open until 12AM and is free admission for the evening.
Gallery 78's screenings have limited seating available (25), are outdoors and have free popcorn.
We will continue to update this information leading up to the festival evening! Please check back before heading out or check out our info booth for an updated map!